The four pillars of the Color Analysis. Part II
The complete guide to your colour palette
MASTER CLASS IN PILLS. PART II 
Colour analysis is a technique that helps you get the most out of your wardrobe pointing you towards a palette that suits your own complexion.
It helps you find your "friend colors" and those who make you look pale and frumpy.
In the previous blog post we talked about the under tone, that is the tone of your skin and which hues look best on you: cool, warm, or neutrals.
Now let's find the value (or depth) and the saturation (or chroma) by analysing the most dominant chromatic characteristic of your face. 


The 4 pillars of the Color Analysis
Skin subtone (Hue)
Chromatic value 
Contrast
Color Depth 


1) Start by defining your skin undertone (hue).
Is it cool or warm? – Read previous post and do the related quiz
Hue (or Temperature): Warm or cool?
The hue defines the colour family of an object, or what colour it is.
>>> Ask yourself: "Do you look best with warm or cool colours?" The answer will depend on whether your features have warm or cool undertones.
2) Chromatic value, or color intensity, is the second ingredient you need to find. 
Look at a black and white photo of yourself. What tones are more outstanding: whites, grays or blacks?
If you are blonde and pale, for example, your chromatic value will be very fair, and you will look great with light colors tone on tone.
If you have an olive skin, dark hair and eyes, your chroma will be closer to gray or black. You will look best with more intense or darker colors.
Value: Light or dark
The value of a colour refers to its level of darkness or lightness. Higher value colors are lighter, while lower value colours are deeper.

>>> Ask yourself: "Do you look best with light or dark colours?" The answers will depend on how high the contrast between your features is as well as how light or dark your individual features are.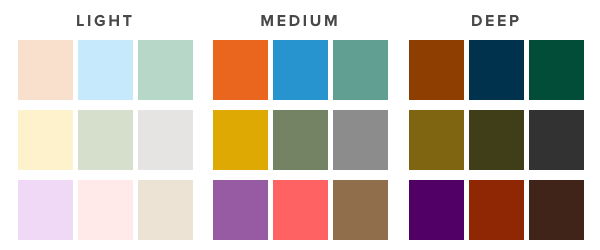 High Chroma:

Low Chroma:

3) Contrast,

 

the third pillar
Look at the color of your hair and eyes and to measure the contrast over your skin. Determining your natural contrast, you will be able to make good choices over patterns and color matching. Ie: If you have light skin, very dark hair, you have a high contrast; with this, you are sure that, if you wear a hot pink/black color block outfit (and have a cool hue undertone), you will look amazing. If with the same contrast but, a warm hue, you wear a burgundy and cream color block combo, your complexion will be enhanced. If you wear patterns make sure they have a high contrast as well.
On the other hand, if your hair is light brown and your complexion is pretty fair, less contrasting colors and patterns will be the best choice.
4) Depth, chroma, saturation
Face feature with elements of depth define the main traits for spring and winter (bright colors), or for autumn and summer (soft colors).
These are:
Fair and bright eyes
Dark and deep eyes
Dark skin, hair, eyes
High contrast (very fair skin and dark eyes and hair)
Faces with high chroma are enhanced with bright saturated colors, those with low chroma, have delicate faces and features and they are enhanced with soft and fair tones. Knowing your level of saturation will help you understand whether or not you should go toward neutrals or toward high-intensity colors.

SATURATION (Depth or Chroma): Muted/soft or bright/clear
The chroma of a colour refers to its clarity, brightness, or saturation. Colors with high percentage of gray are called "low-chroma" or soft, while colors that contain very little, or no gray, are considered "high chroma", or bright. A medium chroma color is one that is neither very soft or very bright.
>>> Ask yourself: "Do you look best in highly saturated colours or greyed-out ones?" The answer will depend on the contrast between your features as well as how high the natural grey content of your colouring is.
Another way to understand chroma is to think about how 'close to gray' a colour is. Clear, bright, saturated colours are on the other side of the spectrum. The less the saturation, the closer a colour gets to grey and the more muted it becomes. 

Depth and chroma quiz
You have determined your hue/temperature. Now you need to determine your Depth and Chroma.
Are you?
🛗 DEEP if your aspect is saturated and dark, has a high contrast level, and can handle deep and dark colors well
🛗 LIGHT if your aspect is delicate, fair, and has a low contrast levels. Usually you look best in light and delicate tones
🛗 CLEAR if your aspect is high in contrast or can handle bright colors even if you have a medium contrast levels or light hair
🛗 PURE if you have a clear or soft aspect, but your contrast level is in the middle range, and on top of that you're still a little sensitive to bright, dark or earthy colors
🛗 SOFT if you are neither dark nor light, or totally warm nor totally cold. You are in the middle to low contrast range. Usually suits soft-muted tones with a little grey or earthiness in them
🛗 MUTED You have a strong and earthy color tones, but you're contrast levels are in the middle range.
Observe whether or not your face and hair are full of color or more muted.
Next time we will look at the season to find out the colors that suite you best.

Read: The seasonal colour analysis. What colour suits you best? Part I 


Neutral colors tops inspo
If you are lookong for your perfect neutral color you should find out your season (next blog post). However these are some general neutral colors: Navy blue, black, white, grey, brown, beige.
---